Mi nombre es Grover Manfredo Rodriguez Ferrufino
Nací en Huanuni, un pequeño pueblo minero en Oruro-Bolivia en 1970, soy el quinto de ocho hermanos.
Yo fui un miembro fiel y activo de La Iglesia de Jesucristo de los Santos de los Últimos Días, tenía dos años cuando  mis padres se bautizaron en la Iglesia y desde entonces mi vida entera giraba principalmente alrededor de la I.J.S.U.D.
Me bauticé a los 8 años de edad y recibí mi primer llamamiento a los 12 años cuando fui llamado como presidente del Quórum de diáconos, y de ahí en adelante recibí varios llamamientos o asignaciones a lo largo de todos estos años, serví una misión y me casé en el templo de Cochabamba-Bolivia y tuve 3 hijos.
Desde aquella época (1982) me esforcé sinceramente por servir a Dios y a quienes estaban bajo mi responsabilidad, a los 13 años por primera vez leí el Libro de Mormón de principio a fin, aprendí que este libro era "la clave de nuestra religión", y debido a ello nuestra iglesia era diferente a todas las demás y que era la "única iglesia verdadera y viviente sobre toda la faz de la tierra", y que tenia profetas y apóstoles como en la antigüedad. Yo crecí con estas ideas  y conceptos firmemente grabados en mi mente. Aprendí que si quería recibir bendiciones de Dios tenía que ser obediente a sus mandamientos los que se encontraban  en las escrituras y las que eran trasmitidas por sus líderes escogidos.
Desde mi infancia empecé a pagar un diezmo fielmente, y cada vez que recibía una moneda, separaba el 10% y se los daba al Presidente de Rama u Obispo, y lo hacía porque creía que con esas pocas monedas, que casi no valían nada, estaba ayudando a otras personas y a la iglesia a crecer y expandirse por todo el mundo, y lo más importante yo creía que por causa de mi obediencia, Dios me bendeciría no solo espiritualmente, sino también temporalmente. 
Poco después de terminar la escuela, mientras hacia mi servicio militar, mi padre falleció, y terminado mi servicio militar, me fui al campo misional a servir como misionero de la I.J.S.U.D. 
El Libro de Mormón y las demás escrituras como Doctrina y Convenios, y La Perla de Gran Precio fueron mis libros favoritos, leí el Libro de Mormón varias veces, aunque no podía entender completamente lo que leía.
A medida que pasaba el tiempo tenía muchas interrogantes , y nadie me daba las respuestas que aclaren mis dudas, así que me dediqué a buscar mis propias respuestas, empecé a diferenciar entre el evangelio de Jesucristo y la Iglesia, parecía que la Iglesia estaba más concentrada en las tareas administrativas que en ayudar a la gente necesitada, terminado mi servicio misional, seguí dedicándome a la iglesia y a mis estudios y trabajando en lo que podía.
Muchas veces me preguntaba si realmente Dios me estaba bendiciendo y si alguien era consciente de lo que yo estaba haciendo en su iglesia, y en medio de todo esto acudí a un amigo de la iglesia para pedirle un favor, al verme con mi Libro de Mormón (que llevaba casi a todo lado) me hizo algunas preguntas y a partir de entonces nos pasamos muchas horas hablando del evangelio y de las cosas que el había aprendido de las escrituras y de sus propios estudios, junto a él me di cuenta que no era el único que cuestionaba algunas formas en que los líderes locales hacían las cosas dentro de la iglesia y la falta de conocimiento que existía al interior de la misma, parecía que, obedecer a los lideres y sujetarse a los programas de la iglesia era más importante que estudiar las escrituras y practicar el Evangelio.
Mi amigo se fue a otra ciudad y perdimos contacto por algunos años. 
Fue hace unos 7 años atrás aproximadamente que nos volvimos a ver y una noche mientras conversábamos me hablo de que había encontrado en internet el libro "La Porción Sellada, el testamento final de Jesucristo", después de terminar nuestra conversación, esa noche descargue todos los libros que había en internet y comencé a leer la Porción Sellada, apenas lo hice, supe que había encontrado todo lo que estaba buscando, fue maravilloso para mi leer este libro, y empezar a conocer la verdad de las cosas como son como eran y como han de ser. Mi corazón y mi mente empezaron a cambiar y comencé a entender la realidad de las cosas más claramente.
Fui compartiendo con mi esposa esas verdades que había aprendido y al poco tiempo decidimos dejar la iglesia definitivamente y empezar a vivir nuestras vidas libres de las ataduras que hasta entonces sin darme cuenta me estaban amarrando y que estaban afectando a mi esposa y mis hijos. No me di cuenta que el tiempo que dedicaba a la iglesia agregaba mas carga a mi esposa y hacia que descuidara a mi familia.
Gradualmente mi mentalidad fue cambiando y empecé a entender el gran engaño al que me había sometido durante muchos años, intente compartir con mis hermanos este nuevo conocimiento pero poco a poco fui aprendiendo que no todos tenemos las mismas aspiraciones y los mismos puntos de vista.
Decidí concentrarme en mi mismo y dejar de lado todo afán inútil que perturbara mi mente, poco a poco me sentí más libre y más feliz, seguí leyendo la información disponible en las páginas del Partido de la Humanidad (https://www.humanityparty.com/) y de Los Verdaderos Iluminados (https://realilluminati.org/), y busque toda la información posible acerca de Christopher (https://christophernemelka.com/), y todo cuanto he leído y oído tiene PERFECTO SENTIDO para mí, no tengo palabras para describir el gozo y la paz que he recibido gracias a las palabras que he leído y oído, estoy totalmente convencido de que el Partido de la humanidad, tiene la solución a todos los problemas que enfrenta la humanidad y que solo Christopher puede dar las respuestas a todas las preguntas que puedan surgir en adelante. Si tuviera algo que decir a la toda la humanidad, diría: Escucha a Christopher, El es el mensajero, el único.
Grover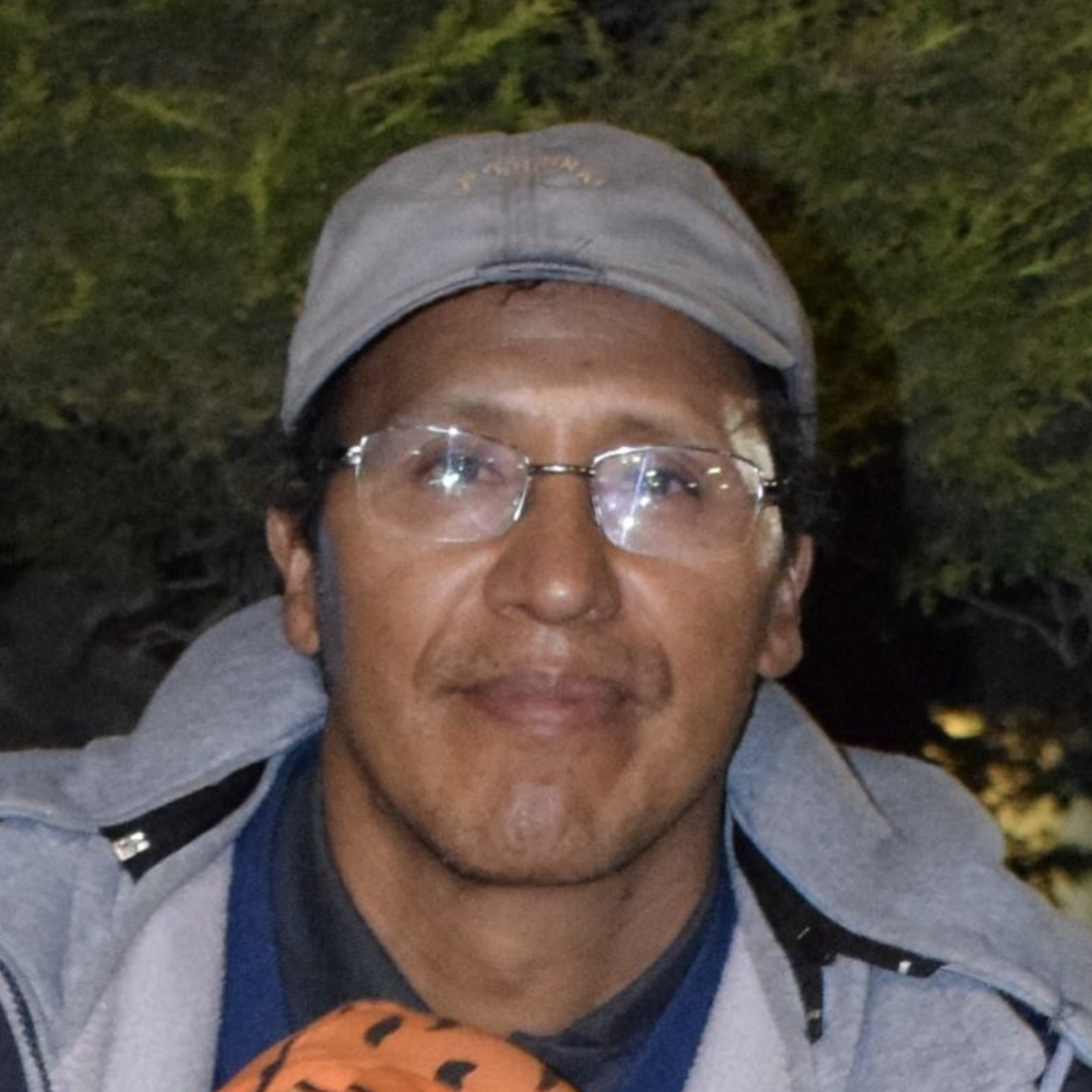 ---
In English:
My name is Grover Manfredo Rodriguez Ferrufino. I was born in Huanuni, a small mining town in Oruro-Bolivia in 1970, I am the fifth of eight siblings.
I was a faithful and active member of The Church of Jesus Christ of Latter-day Saints. My parents were baptized into the Church when I was two years old and since then, my whole life revolved mainly around the LDS Church.
I was baptized at age 8 and received my first church calling at age 12, when I was called to be the president of the Deacon's Quorum, thereafter I received several callings or assignments. Through the years, I served a mission, got married in the temple of Cochabamba-Bolivia and had 3 children.
From that time on (1982), I sincerely strived to serve God and those under my responsibility. At age 13, I read the Book of Mormon from cover to cover for the first time; I learned that this book was "the key to our religion," and because of that, our church was different from all the other ones. I learned that my church was the "only true and living church upon all the face of the earth." I learned that my church had prophets and apostles like in ancient times. 
I grew up with these ideas and concepts engraved firmly in my mind. I learned that if I wanted to receive blessings from God, I had to be obedient to God's commandments, which were found in the scriptures and were communicated to us by His chosen leaders.
Since I was a child, I began to pay tithings faithfully. Every time I received a coin, I used to set aside the 10% to give it to the Branch President or Bishop. I was doing this because I believed that with those few coins, which were almost worthless, I was helping other people and helping the church to grow and spread throughout the world. Most importantly, I believed that because of my obedience, God would bless me not only spiritually, but also temporally.
Shortly after finishing high school, while at my military service, my father passed away. After my military service, I left to the mission field to serve as a missionary of the Church of Jesus Christ of Latter Day Saints.
The Book of Mormon and the other scriptures such as Doctrine and Covenants and The Pearl of Great Price were my favorite books, I read the Book of Mormon several times, even when I couldn't understand completely what I was reading.
As time went on, I had many questions, but no one would give me the answers to help resolve my doubts, so I dedicated myself to looking for my own answers. I began to differentiate between the gospel of Jesus Christ and the Church, it seemed that the Church was more focused on the administrative tasks than in helping people in need. 
After finishing my missionary service, I continued to dedicate myself to the church, to my studies and to work on whatever I could. Many times I wondered if God was really blessing me and if anyone was aware of what I was doing in His church. 
In the midst of it all, I went to visit a friend from church to ask him a favor. When he saw me with my Book of Mormon (which I carried almost everywhere), he asked me some questions, and from then on, we spent many hours talking about the gospel and the things he had learned from the scriptures and from his own studies.
In talking with him, I realized that I wasn't the only one questioning some of the ways local leaders did things within the Church and the lack of knowledge that existed within it. It seemed that, obeying the leadership and subjecting ourselves to Church programs was more important than studying the scriptures and practicing the gospel.
My friend moved to another city, and we lost contact for a few years. It was about 7 years ago that we met again and one night while talking, he told me that he had found a book on the internet "The Sealed Portion, The Final Testament of Jesus Christ". After ending our conversation, I downloaded all the books that were on the internet and started reading the Sealed Portion that night. 
As soon as I did, I knew that I had found everything I was looking for. It was wonderful for me to read this book, and to start learning about the truth of things as they are, and as they are to be. My heart and mind began to change, and I started to understand the reality of things more clearly.
I shared the truths I had learned with my wife and soon we decided to leave the Church permanently. We started to live our lives free from the bonds, that even without realizing, were tying me up and affecting my wife and children. I didn't realize that the time I spent at church added more burden to my wife and caused me to neglect my family.
My way of thinking changed gradually, and I began to understand the great deception I had been subjected to for many years. I tried to share this new knowledge with my siblings, but little by little, I learned that we do not all have the same aspirations and the same points of view.
I decided to concentrate on myself and put aside all futile eagerness that would disturb my mind. Little by little, I felt freer and happier and continued reading the information available on the pages of the Humanity Party (https://www.humanityparty.com/) and of the Real Illuminati (https://realilluminati.org/). I also looked for as much information as possible about Christopher (https://christophernemelka.com/.) 
Everything I have read and heard makes PERFECT SENSE. I have no words to describe the joy and peace I have obtained because of the words I have read and listen to. I am totally convinced that the Humanity Party has the solutions to all the problems facing humanity, and that only Christopher can give the answers to all questions that may arise in the future. 
If I had anything to say to all mankind, I would say: Listen to Christopher, He is the messenger, the only one.
Grover
grovermanfredo@hotmail.com
What I know for sure: NOTHING I remember having a conversation with my oldest son about 10 years […]

My Story: I was born on 18th June 1968 in Sydney, Australia. My father had moved to Australia […]

MIKE ALLEN'S PERSONAL STORY Favorite Color: Rainbow Favorite Song "Yo Gabba Gabba's All my friends are different" -: […]

I was born and raised in the Mormon church. My mom took me and my siblings to church […]